Your legacy on Earth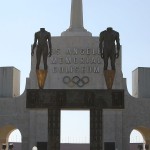 I'm not sure how I can tie yesterday's events to how we'll heal our earth, but I'll give it a shot.
Yesterday's passing of Farrah Fawcett and Michael Jackson were a double whammy for me.
As a child of the 70s, I remember those posters of Farrah Fawcett pinned up in garages and bedrooms all over Cupertino.  Charlie's Angels was a guilty pleasure that today's reality shows can't hold a candle to.  Who can't relish those numerous "jiggle TV" stars tousling their hair, jousting into a Ninja stance, and with a sultry sneer, yell, "Drop the gun, jerk!"
Fast forward to the 80s, MTV and Michael Jackson.  "Off the Wall" and "Thriller" were remain timeless, and as a performer, Jackson was a trailblazer with no peers nor successors even close to approaching him.  He bridged the gap between white and black music, sold hundreds of millions of records, and dropped jaws with his breathless dances and performances.
Both Fawcett and Jackson had their downfalls, personal problems, and public humiliations.  I won't rehash them--there's plenty on TV and the web for that.
What I'm getting at is that we often forget is that we're only on this planet for a relative blink of an eye.  Some of us will clearly leave a greater legacy than others.  Jackson and Fawcett comforted many a kid who found solace in their rooms with her smile or his music.  Others leave a legacy through activism, advocacy, or simply being a great mentor.  Whether you're memorialize with a day of television tributes or not, you will leave a legacy one way or another.  It's up to you what you do with your blink on this earth.  And your blink will remind on this earth with far greater blinks long after you're around.