Will Alternative Energy be saved by . . . Big Oil?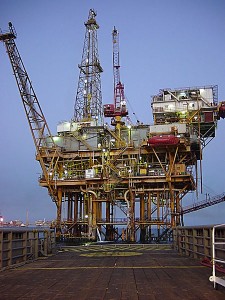 Oil companies are easy targets. Well, first of all they are big, we see their logos everywhere, and we can picture folks like Dick Cheney and his cronies in an underground secret conference room, plotting to pollute the world while lining their pockets, laughing like Heath Ledger's Joker while they conspire to sabotage any new fuel technology that comes along. Look what's happening with alternative fuels right now. Just a year ago, US$150 a barrel prices had some of us dreaming about a solar powered Prius (or Alfa Romeo) by 2012. Okay, that's far fetched. But corporations with whom I had spoken were creating scenario plans of US$500 a barrel oil, and switchgrass and algae were looking like the new gold. Surely rising fossil fuel prices would finally force us to change our lifestyle and end American addiction to Middle Eastern oil. A funny thing happened along the way. Gas prices took a nosedive while the global economy tanked, dragging everyone and everything (except for health care services and iPods!) into a fiscal black hole with the falling stock market and wrenching credit crisis. Among the casualties:
investment in renewable energies
. Depending on what metrics you use, investment in renewables during Q1 of 2009 is at only one-third of what VC's tossed at clean fuels during early 2008. It's not all bad news: fuel cell investment, at ZERO during Q1 of 2008, is over US$40 million, and fuel storage and energy efficient products saw an uptick in investment.
I believe that part of the problem is there are many technologies out there, but not one is a single viable solution. Each technology, while solving a problem, opens the door to other environmental issues. But this debate aside, let's just face it: there are a few hundred companies in the renewable energy space; many of these lack funding, and without funding and a market, many are doomed. Could large, multinational, corporate (sorry, this may be getting vulgar here) energy companies become part of the solution? Yes, I do roll my eyes when I see the TV advertisements saying how green and progressive BP, ExxonMobil, and Chevron are and how they are working hard to save the environment. But let's not get too cynical here. I've spoken to oil company executives in Texas, many of whom realize that fossil fuels will not be the long term solution—and whether the reserves really do run dry, or regulation under Obama leads to their strangulation—many in the Big Oil club are trying to figure out how their current business model can adapt to new forms of energy that are emerging on the horizon. As one exec at an ExxonMobil subsidiary said to me in Houston: "We're successful cause we're smart—we're a company run for and by engineers, we've got the processes down, and we're nimble." He's right—I was raised by an engineer—they are smart, focused, and well, nothing gets by them. And whatever your opinions are of big oil, one fact can't be disputed: they have money! So before we rip into these companies with the standard clichés about how evil and polluting they are, let's see what happens in the next few years. After all, look at high tech—how many companies have Yahoo!, Microsoft, and Google swallowed? Don't be surprised if you see this in the clean tech center. These technologies will only improve and become more scalable, and if there's profit, you bet some of those companies in the S&P 500 will perk up and sink in their money.