Why Ben & Jerry's Commits to Fair Trade
Ben & Jerry's raised eyebrows earlier this year when the Burlington-based ice cream company announced that all of its products would be made from fair trade certified ingredients by 2011 in Europe and 2013 in the United States.  The company, which started in an abandoned gas station in 1978, grew into one of Americans' best loved ice cream brands.  Unilever purchased the company in 2000, but not after months of kicking and streaming and an agreement that Ben & Jerry's management and board drafted that demanded that Ben & Jerry's would always continue its social mission without any interference from its new parent company. Ben Cohen and Jerry Greenfield are just as feisty, irreverent, and enthusiastic about their company and beliefs 32 years later.  Cohen and Greenfield (let's just refer to them as Ben and Jerry from now on!) are technically no longer employees of the company, but are still very much involved with their creation behind the scenes.  For those of us invited to Burlington this week for a two day crash course in what I would describe as "Fair Trade 101," we had a special treat in store for us yesterday morning when Ben and Jerry joined us for breakfast and chatted for 30 minutes on why they are behind their company's shift towards 100% fair trade ingredients.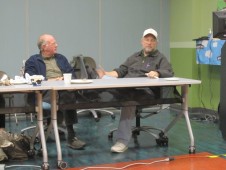 It had been years since I had seen the founders in a TV interview--honestly, I did not recognize them at first.  I just figured they were a couple employees who were about to give their two cents on Ben & Jerry's new agenda.  Then the caffeine kicked in.  Self-deprecating as ever, they joked that they had only come for the some food anyway--but then they became serious as they talked about Ben & Jerry's fair trade initiative.  Of course, Ben was often serious; Jerry was dishing out wisecracks but his commitment was just as strong.
Buying materials cheap abroad to sell products at home for a high profit margin is unethical and unfair.  What may just be a few pennies to us makes huge differences abroad.  We want people to understand that you can make a decent profit and still pay decent prices to your suppliers at the same time.  So you make a little less profit, but you are not making obscene profits on the backs of the world's poorest people:  that is the essence of fair trade. - Ben Cohen, Founder of Ben & Jerry's
Hence Ben Cohen set the tone for the rest of the morning.  In a way this is really nothing new for the company.  Ben & Jerry's had a corporate social responsibility-driven culture long before CSR became an acronym.  The firm purchased fair trade materials before those two words became a buzzword:  Ben & Jerry's bought coffee extract from a cooperative in Mexico, and if creating opportunity is a definition of fair trade, Ben & Jerry's nailed it.  The brownies swirled into several of their frozen concoctions have long been produced by Greyston Bakery, a Yonkers, NY business that has long employed the homeless and former prison inmates. Now they pushing the envelope even further, working with
Fair Trade USA
in finding ethical ingredients for their ice cream. So why fair trade, and not a focus on organic or philanthropy?  Both Ben and Jerry explained that organic is not always sustainable, and donations only can go so far.  There is no limit, however, to the amount of materials you buy, and once you go fair trade, a company will be hard pressed to ever reverse that commitment.  Jerry also reiterated that if more companies, and yes larger companies, go fair trade, we should welcome such a change, and small companies should also embrace this move--not feel threatened because fair trade had been a unique or differentiating factor. The transition will not be easy.  When a company uses about 350 different ingredients and has developed strong relationships with its suppliers over the years, hurdles will at times get in the way.  Ben Cohen and Jerry Greenfield are still beating that corporate social responsibility drumbeat.  It's exciting to know we will see even more of them in the coming months as they become the new voice of fair trade.