The Brazilian Decade?
Happy New Year and New Decade!  From the "buzz" I've heard, 2010 will be a pivotal year for those involved in the sustainability movement.  New technologies advancing smart grid and electric vehicles may (or may not) take off, and investment and opportunities in renewable and alternative fuels may (or may not) surge.  GreenGoPost plans on also focusing on one of the world's most important nations that may (or may not) have an even greater role on the global scene:  Brazil.
Brazil is a fascinating study of contrast
.  Its people are among the world's most religious, despite its reputation for decadence and flamboyance.  Historically its leadership has scorned free markets and free trade, while diverting its tax revenues to the wealthiest who least need the additional funds.  If you are a frequent flier, you probably have flown a Brazilian jet, but in business, you have probably never operated a Brazilian software program or electronic product.  Its local cuisine is diverse and delicious, but most of us have only purchased Brazil's orange juice, beef, or soy . . . without even knowing it.  Technically this nation, about the size of the continental US, has one of the largest road systems in the world--but only 12% of it is paved.  The contrasts are many, which make Brazil and its people fascinating and engaging--and explain what some describe as Brazilian Exceptionalism.
One such contrast is the attention given to Brazil's land management.  For a generation we have been hearing the threats to the Amazonian rain forest, while another huge ecosystem is endangered:  Brazil's cerrado, its huge tropical savanna of 770,000 square miles that serves as a buffer between the Amazon and its coastal regions.  This swath of land that stretches from its border with Paraguay to its northeastern coast is disappearing quickly; estimates suggest that almost half of it has been lost.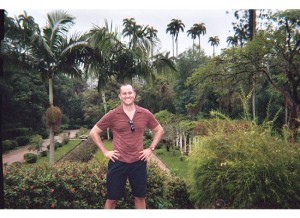 The
cerrado
is a relatively dry region, hosting many species of drought-resistant plants along with animals that depend on them.  Most of the land here was arid and not usable until the Brazilian government realized that phosphates and land could be added to the soil, turning the region into a huge expanse of farmland that is behind much of Brazil's commodities boom.  Grains and cotton are now grown, livestock is raised, and charcoal from here is now harvested for Brazil's steel industry. 
Meanwhile, native plants that have potentially huge health and wealth benefits are now threatened.
  The pesticides and other chemicals propping up the new
cerrado's
new crops are infiltrating into the
cerrado
's watershed, which is much of the source for the Amazon and other large rivers that offer Brazil much of its ecological--and economic--riches.  Perhaps Brazilians could look to California's Central Valley as an example of what will happen if the land is not managed better:  the San Joaquin and Sacramento valleys were once "marginal" lands that housed only "scrub," "shrub," and "wasteland."  Now this region is the breadbasket for the United States, and is now an economic and environmental mess, with some of the highest levels of pollution in North America . . . with huge political fights over water rights that sadly have left far too many orchards left for dead while toxins like selenium render some land unusable.
The controversy over the cerrado has even spilled into this year's presidential election in Brazil.  President Luiz Inácio Lula da Silva's environment minister, Marina Silva, resigned in 2008 because of the administration's policy (or lack thereof) towards the Amazon and cerrado, and the election most likely will pit her against Dilma Rousseff, da Silva's hand-picked candidate.
Brazil has much to be excited about this decade:  after generations of frustrated promises, the nation has shed an awful legacy of mismanagement under military dictatorships, inflation and debt are under control, and the country will host the World Cup and Summer Olympics in the coming years. 
And Brazil has always been a leader in design and fashion
.  Brazilians have a land full of blessings; let's hope they manage their resources well, because as the science often suggests, we all depend on Brazil's lush land.
I welcome your comments, especially if you can tell me where I can score some baru nuts, one cerrado plant that is under threat from Brazilian agribusiness.