Parkman Triangle
Parkman Triangle Park in Silver Lake
Parkman Triangle was completed this year, and had its
ribbon-cutting ceremony
on August 14, 2010. It now has its own site,
ParkmanTriangle.org
, which is also the home page for the non-profit, Parkman Triangle Group.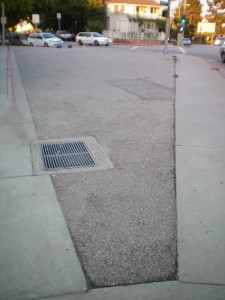 At the corner of Silver Lake Boulevard and Parkman Avenue, in Silver Lake, Los Angeles, lies a 2000-square foot space currently covered with asphalt.  This triangular space doesn't really do much for this neighborhood south of Sunset Boulevard:  occasionally there are unpermitted weekend flea markets, cars parked illegally, and trash scattered about.
But this spring, this area will be converted to a green space that will be a focal point for this historic Los Angeles neighborhood, thanks to the Parkman Triangle Improvement Project.
While other areas in Silver Lake, such as the reservoir and Sunset Junction, have become revitalized, the area south of Sunset has lagged behind.  New remodeled homes have brightened up this area and vibrant small businesses have moved in, but much work needs to be done.  Dating back to the early 20th century, this neighborhood, once home to workers in the silent film industry, has an opportunity to become another jewel in Los Angeles' bounty of eclectic neighborhoods.
This new park will give this section of Silver lake its own identity, and it will be named "Parkman Triangle Park."  The new park will serve as a focal point for this community and will enhance its visibility, while providing much needed green space in a city that often lacks it.
Led by John Southern, an architect of
Urban Operations Studio
and a local professor, and Ara Babaian, an attorney, the Parkman Triangle Group has received a grant from the Los Angeles Office of Community Beautification.  Together with volunteers and local businesses donating supplies and labor, their plan will come to fruition by summer.  At a time of reduced budgets, it is inspiring to see a project that will improve this neighborhood in countless ways.
The park will showcase native plants, including trees that will provide shade.  Boulders will also be scattered throughout the park, so this once barren corner will resemble the rugged Southern California terrain.
The project received a huge boost from Los Angeles City Council President Eric Garcetti's office when it agreed to pay for the demolition and removal of the asphalt.  The LADWP has also contributed by agreeing to install a water main so that the park can be regularly watered.
Parkman Triangle still needs building supplies and volunteers.  Demolition is slated to begin on March 1, and during the following weeks, the Parkman Triangle Group needs volunteers who can offer supplies and labor.  Most of the work will occur on weekends.  For more information, or to offer help and supplies,
please contact us here
.