Need a Marathon Break? The Triangle Dig Continues Sunday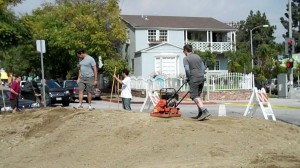 It has been a great week for publicity surrounding Parkman Triangle.  We got some
coverage in Curbed LA
!  Some folks were not happy with the tone, but any coverage is better than no news, right?  Many comments were also posted expressing enthusiasm for the project.
Digging will continue on Sunday.  We need to move more dirt from the berm to the middle of the site, so we hope to get many volunteers to make this quick work!  We are asking people to show up anytime between 10am and 2pm.  Bring work gloves, sunscreen, a hat, and a water bottle (in case we run out!).
The only caveat is that the LA Marathon is on Sunday the 21st, so traffic and logistics may be an issue.  Depending on how you are getting there, you may want to park on Parkman SOUTH of Silver Lake Boulevard to avoid any snags.
See you then, and thank you in advance for coming!
To give you an idea of the work involved,
I have a few film clips here
!