Maybe the energy firms will come around . . .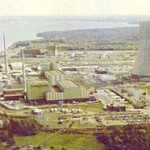 Constellation Energy's CEO Mayo Shattuck just sent out a statement that
the Baltimore-based corporation, which operates about 35 power plants in 11 states, is supporting the House's climate change bill
.
Whatever you think about the climate change bill, or energy companies in general, this is a critical step in getting energy firms to focus on the technologies that can at least stall, if not reverse, climate change. Some will scoff that the new technologies are already there, but at this point, most "green" energy technologies are still more expensive than fossil fuel-based sources. If we could get more energy firms like Constellation—a HUGE name—behind this House bill, but more importantly, convince them or incentivize them to invest in renewable energy sources, this would create more demand, better scalability, a fall in green tech prices could make these them more attractive to investors . . . I need to pinch myself, it's still a dream! But before I run out and buy my solar-powered hybrid plug-in care with matching appliances, I need a reality check: I often think renewable energy is analogous to public transportation; both need to be cost-effective and offer seamless transition to consumers, or they won't grow. Combined with a smart grid, better energy storage, and improved fuel efficiency technology, we could be well on our way . . . wind in the prairies, sun in the southwest, the occasional nuclear reactor . . . well, more on that later . . .