Farewell to the Black Stallion
He wasn't in perfect shape.  There were some dings and chips in the paint.  And he only had one speed (as far as I could tell).  But I was sad yesterday to see him go. Yesterday I finally had to give back "The Black Stallion" to the shop from which I had rented the trusty bike for a week. We became friends and trusted companions.  He took me everywhere.  It probably would have been easier to rent a sleeker bicycle with more gears for my ventures outside of Amsterdam, but The Black Stallion did well.  Yes, it was heavy and a beast to carry up and down the stairways at rail stations, but it was certainly reliable.  It allowed me to see much of Utrecht and Maastricht during a quick overnight trip earlier in the week.  I was able to traipse through most of Haarlem for the few hours I had in that town, with the added bonus of biking through the coastal dunes in Holland.  And finally, the big bulky Dutch bike was quite reliable the morning I got up at 5:00 a.m. to bike 13 miles to Aalsmeer, where the world's largest online flower market is located. For a city of 750,000, Amsterdam has much to offer.  It has a solid culinary and foodie scene.  The museums are impressive.  The parks are wonderful for lazing around at 8:00pm, with 90 minutes to go until sundown.  Its architecture is magnificent, yet welcoming—because the focus is on houses and not on egotistical monuments, you feel part of the city, not a tiny part of Amsterdam.  And yes, there is the debauchery of the Red Light District, though I found myself staying away from that area—partly because of the clientele (blokes being the operative word), and also because of the massive (and some say, unnecessary) infrastructure projects underway in the old center.  The city has its challenges and not everything city leaders tout as "sustainable" are what they are cracked up to be.  Nevertheless, life here definitely can give some of us across the pond some teaching points. The real pleasure of Amsterdam is just being able to bike around a city where bicycles rule.  The trams offer a viable transportation, and because the city is flat, it certainly is possible, but biking is the way to go.  One can whip from the Jordaan to the Plantage in 15 minutes, and that's probably slow compared to knowledgeable locals who know the shortcuts.  Cyclists also have priority, so it's refreshing to be in a place where motorists—and even pedestrians—are wise to get out of your way.  Thanks to that trusty old black bike, I was able to enjoy the city, save time, exercise incessantly, and blend into the scene.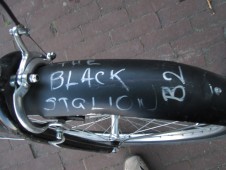 So finally around 4pm yesterday, I had to let the Black Stallion go.  He needed a tune-up, I'm sure.  I loved how locals and expats complemented me on having a genuine Dutch bike—but loved even more how it got me everywhere with no complaints.  After saying good-bye, I then checked into an airport hotel and took the 15 minutes train ride back into town for a last walk around Amsterdam, which was lovely . . . but the experience just did not compare to having that bicycle at my disposal. By the way, there are bicycle rental shops all over the city, so base your choice on convenience.  I happened to rent The Black Stallion from
Mike's Bike Tours
, which is in the Southern Canal Belt.  Their bikes are free of locals, so the chances of having your bike vandalized or stolen diminishes—bicycle theft is a huge problem in Amsterdam.
Editor's Note:
I am almost home, but there will be more news coming in the next few days.  Stay tuned for a
waste-to-energy power plant tour
, thoughts on
Amsterdam's future public transportation options
, and the issues involved when sustainability becomes elitist.  I also plan on commenting on how this
fiasco in the Gulf is nothing new
, and it's time for more coverage of what is going on in Los Angeles, where politics and narcissism sometimes are difficult to tell apart.