Lamb – the Other (Sustainable) Red Meat
If you are of Middle Eastern descent, chances are you have had lamb at a family or holiday gathering.  The French and other Europeans often love lamb as well, and for many cultures lamb is a timeless dish.  In the USA and parts of Asia, however, lamb is often avoided.  Several reasons exist: the flavor is "gamey" (which I interpret as having flavor), and of course the image of eating a young animal is offensive to many.  When I lived in Korea, the mention of
yang-go-gi
elicited gasps of horror from the thought of consuming a young animal.  Even some meatpacking workers I interviewed long ago in Baltimore expressed their sadness at the thought of lamb.  One burly retired worker told me . . . "I had no problems working in the slaughterhouse . . . but when it came to lamb, I hated the job . . . because they CRIED."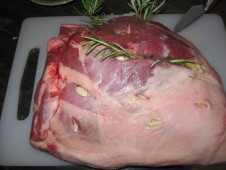 Lamb in the USA is often misunderstood.  It is a delicate yet flavorful meat, yet has often been overcooked and lathered with mint jelly.  This meat deserves a second look; for carnivores and omnivores who will not go vegetarian but are bothered by the meatpacking industry, there are several reasons to shun the cow and go for the woolly lamb:
Lamb is raised on pastureland, hence they graze on grass--a much better alternative than corn-fed livestock.
Since many Americans avoid lamb, you are not part of the Big Meat cycle.  Most lamb is grown by smaller producers, so you are supporting small family farmers and ranchers.  With a small demand comes reduced land, water, and the nasty effects that often pair with cattle and poultry production.
Lamb is relatively low in fat and high in zinc and iron.
If you avoid imported lamb from New Zealand and Australia, chances are you enjoying a local food while reducing that dreaded carbon footprint.
Most lamb is raised without chemicals or antibiotics--just check with your butcher to make sure.
Many supermarkets only carry a small offering of lamb, so you need to visit a specialized butcher--and in the end, you are supporting small local businesses.
As for how to cook it, you have several options.  Lynne Rossetto Kasper's The Splendid Table has many great recipes, including one for
leg of lamb
that incorporates red wine and olives.  I did not have a bottle of red handy, so I used Marsala wine--a great substitute! The fact is that for health reasons--and because of its huge environmental impact--reducing our meat consumption is critical.  But if you are going to splurge--do not be afraid of lamb.  It is one of the better alternatives for us happy omnivores!