International Trade 101: The Aalsmeer Flower Auction
If you want to gain a great lesson in the complexities involved with international trade, visit FloraHolland's flower auction in Aalsmeer, about 13 miles outside of Amsterdam.  Thanks to the prodding of a Dutch colleague, I dragged myself out of bed at 5:00 am, as dawn broke with no one milling about Amsterdam's streets and canals.
The bike ride alone was a joy; I could write a post about that lovely experience.  After an hour and 52 minutes, I arrived at the massive auction warehouse, located close to Schipol's International Airport. What awaits you is a lesson in international trade.  With all the cry over buying local, the fact is that so many around the globe make their livelihood off the hauling of goods across the world's borders.  Depending on what data you read, only about 5% of products ship by air—but that small fraction accounts for about 90% of the total value of goods traded by nations.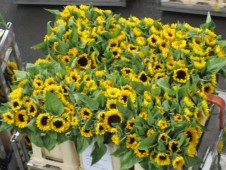 You can learn about how the auction house works on
FloraHolland's site
.  My two hours there were fascinating:  the geometric movements of the carts left me in a trance, and the scenes in the various auction rooms give you a window to a process that may disappear in a few years.  Most flowers sold in Aalsmeer are flown in from countries like Kenya—and most are sold electronically. I spliced together some scenes, which are divided up into
four different videos on YouTube
. While I appreciate the desire to buy locally, it is not always practical.  I believe in the economic theory of competitive advantage.  I also think the way to address the issues involved with the fuel needed to haul products around the world should be rethought.  Is there a way to use cleaner fuels for ships, which transports the majority of goods?  And is the flower trade a way to build wealth in developing nations, or is this a luxury with more detriment than benefit? 
Please share your thoughts.