Hopping back to British Columbia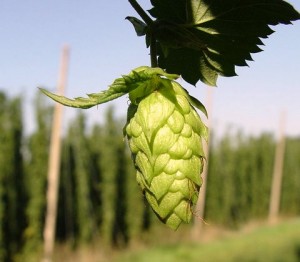 Mention British Columbia, and you might think of the 2010 Winter Olympics in Vancouver and Whistler.  There's so much more to BC:  including more movies that used to be filmed in Hollywood, Okanagan Valley wines, salmon and timber, and yes, Sarah Palin, that long border it shares with Alaska.  But BC is also becoming a leader in a lucrative business:  organic hops.     British Columbia has a long history of growing hops.  During the nineteenth century, most hops consumed in North America were grown in Canada's westernmost province, used for everything from brewing beer to medicinal purposes.  In the 1890s, however, a hop lice infestation ravaged hop farms.  Many farmers lost their livelihood, and by World War II, hop farms had vanished from BC.  Hops for beer production came almost exclusively from Oregon and Idaho, where the cost of cultivation and distribution were far more cost-effective. But over the last several years, hops have made a comeback in BC.  Increasing interest in home-brewed, micro-brewed, and organic beers have seen organic hop farms, such as
Crannóg Ales
outside of Sorrento, BC, develop a brisk business.  Crannóg Ales has been around for eight years, and not only grows hops, but other organic crops, raises heritage animal breeds, and best of all . . . has a brewery on the farm. Interest in hops is surging as well because of the worldwide hop shortage.  Finally, after drinking mediocre beer for decades, consumers are demanding tastier beverages, and the interest in all things organic has spilled over into beer.  Farms such as Crannóg Ales are also becoming completely sustainable operations, buying locally, giving workshops on organic farming, and turning waste products into fuel.  Canada still has not cracked the top-10 list in global hop production . . . but I see an opening for tour operators who want organize visits to hop farms in BC!
If you're a beer fan, you should check out this blog, run by aficionados Mugsy and Jugsy.
And if you happen to be in Ottawa, the
Canada Agriculture Museum
has an exhibition on the hop industry in BC. So we're curious . . . what is your favorite organic brew?