Green Showers in China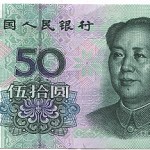 When one thinks of China, "green" does not come into mind, unless it's the 50 yuan note, or the algae that often infests its water:  by most accounts, two-thirds of China's rivers and lakes are contaminated.  Most of the nation's electricity needs come from coal, a scary prospect from a nation of over one billion and counting.  Most of China's skies are grey:  Hong Kong, a favorite business travel destination of mine, suffers from the nearby factory smokestacks of Guangzhou to the point that many corporations are considering leaving because of quality of life issues.  Littering also seems to be a national pastime:  my memory of hiking in remote areas in China is seeing trash along the trails or strewn along bushes.  Before we pick on China too much, however, this was also true of much of the USA during the 1960s and 1970s.
Much of China's economic activity is hardly green, and yet, the Chinese are actively engaged in the green technology sector.  Visit any trade show or conference, and you'll see plenty of Chinese attendees at the sessions, and Chinese vendors in the exhibit hall.  While economic development comes first (with a catastrophic environmental price tag), there are plenty of entrepreneurial Chinese who are seeking to profit in the green tech sector.  The Chinese are also a leader in one technology that Southern California could desperately use: 
solar water heaters
.
Solar water heaters are a huge business in China.  There are over 5,000 manufacturers, the sales staff of which are so competitive that they will visit remote villages and browbeat the locals into buying their product.  High competition means low prices:  the average solar water heater that meets a Chinese family's needs costs about US$220.  There are several reasons why these solar heaters have found acceptance in China:  lack of natural gas service, low expectations of Chinese consumers, and a relatively simple technology that goes back 100 years.  Low cost does not mean high-tech, however:  some of the models only work on sunny days, and the amount of hot water the average Chinese family consumes is exponentially lower than that of an American family's.  Onerous regulations in the USA and California, paired with the demands of American consumers, means that a decent solar water heater here will set you back about US$1500.  Visit many Chinese cities and you will see houses and apartment buildings slathered with these heaters, which are about the size of a bed mattress.  Cross the Pacific, and you have to deal with the LADWP or other utilities, and for many customers here, the bureaucratic hassles are a deal-breaker.
The Chinese are onto something, and investors are taking notice:  Goldman Sachs invested US$50 million into Himin Solar Energy Group, the leader in Chinese solar water heating technology.  Himin's hometown, Dezhou, is a greenie dream, with streetlights powered by solar cells, and 90% of its households enjoying water heated by the sun.
Living in a region where we have sun year-round, I'm shocked more is not done to encourage residents to use solar products.  But with so many layers of government and the resulting turf wars in which bureaucrats are constantly entangled, I am not surprised.  Recently I started the process of getting a rebate for a low-flush toilet, only to find that I had to "reserve" a rebate before buying the product; I could only imagine what a solar contraption would force me to endure.