Don't Diss the Dakotas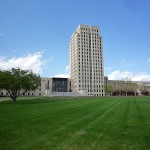 Last year I worked for a company that sent me all over North America for really no good reason.  On one hand, it was a fascinating experience listening to energy executives talk about their corporate strategy when oil was hovering at US$150 a barrel.  But when you are flying halfway across the country spewing out jet fuel for one appointment, you hardly feel green.  One trip that was exhilarating, however, was a quick run to North Dakota, a state that immediately left me smitten.  Bismarck, the capital, was full of Art Deco architecture that would leave most cities envious, and its people were friendly and welcoming. 
My travel schedule was ridiculous:  I couldn't fly out of Bismarck, so I had to drive three hours east to Fargo, a journey that was a great way to spend a summer afternoon . . . rolling green hills, great towns with more fantastic old Western architecture, antique shops with employees lacking the Melrose attitude, and of course, delicious buffalo burgers and real milk shakes.  Fargo ended up being one of the coolest cities I have visited, with more Art Deco buildings and people so sincere they left you gobsmacked.  I wandered into the uber-hip
Donaldson Hotel
 and I was treated to a regal tour of the building:  I doubt I'd get the same treatment at a Kimpton property in LA.  It was the best 36-hour trip!  I'm dying to go back. 
Two keys are needed for renewable energy to take off and therefore combat climate volatility:  first, government action in the forms of grants, tax credits, and policy changes; and second, "greenies" on both coasts, from Santa Monica to Boston, must win buy-in from their ideological foes, those blessed folks in the red states.  North Dakota, with its population of approximately 640,000, has 0.02% of the USA's population, but thanks to the Constitution, this is one of the many red states (and blue states such as Delaware and Vermont) that have a disproportionate amount of power in Congress.  Although they are Democrats, North Dakota's current senators have zero interest in passing the Waxman-Markey Cap and Trade bill that's stalling in DC.  Logical or not, much of the heartland is suspicious of what the DC crowd is concocting (can you blame them?).  Yet at the same time, changes are occurring at a micro-level:  you've got a brewer of carbon-neutral beer here, a coal plant is trapping its emissions there, and
MDU Resources, an energy firm that is one of the North Dakota's largest employers, is undertaking a project that will direct wind-generated energy to larger metropolitan areas
.
So I want to suggest to green conference planners this:  organizing events like these in cities like Bismarck is the smart approach to take.  Instead of talking over people, you've got to bring the discussion to them.  Personally, I really don't want to attend green events in Santa Monica, Seattle, or Manhattan.  Take these events to the heartland, so that the locals can see they are stakeholders in this discussion:  and educate the smarty-pants from the left and elite coasts that more is going on outside their little bubbles than we actually realize.  Without our country cousins, this debate is not going to move forward, and action will not be taken.