Disappearing Fish: Ground Zero, Tokyo
The newswires are full of distressing stories discussing how fish stocks around the globe are rapidly disappearing.  Some surveys suggest that many fish species could very well disappear during our lifetime.  The causes are numerous:  pollution, the garbage patches in the Pacific and Atlantic, fish trawlers (hardly fishing--more like massive cheating that pulverizes huge swaths of ocean life), and a growing demand for protein as people worldwide become more affluent.  The surge of sushi's popularity, which has evolved from that odd Nat Geo exotic curiosity to mainstream cuisine, surely has not helped.  And if you want to see the evidence of why fish are disappearing, you have got to visit the
Tsujiki Fish Market in Tokyo
, a must-see for any visitor in Japan.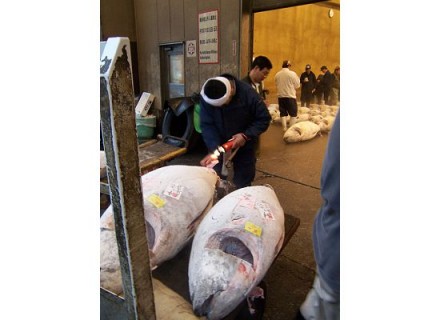 I have visited Tokyo many times, yet never had the gumption to visit Tsujiki at 4:00 a.m. during a business trip.  But upon hearing that the market will eventually move, I decided to visit my last morning in Tokyo in July 2007.  That 4th of July started with the alarm buzzing at a few minutes after 4, so after stumbling into my clothes and grabbing my trusted black backpack, I hailed a taxi and made my way to the market.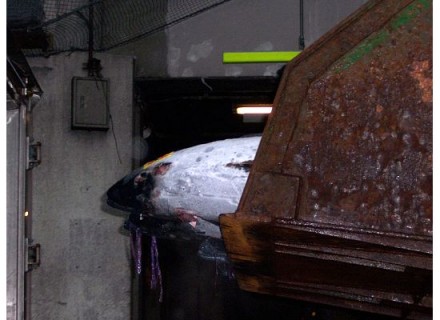 At 4:30 a.m., Tsujiki Market is buzzing away
, with business already having started its steady daily hum.  The first thing you learn at Tsujiki is that if any sushi restaurant tells you that their ahi tuna is "fresh, not frozen," they are
LYING
to you.  These trawlers, huge behemoths that are part aircraft carrier, part massive tractor, stay out at sea for days and days at a time.  There is no way they can keep these giant tuna "fresh" . . . the tuna are frozen, becoming big musty gray chunks of flesh until the trawlers reach port.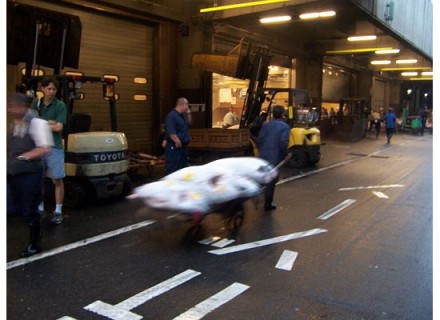 Once these fish make their way to Tsujiki, the fun (or horror), really begins.  Being a camera toting white man in a sea of Asian madness is an experience that any gringo should seize.  I first wandered around the market stalls, viewing shellfish, crustaceans, and fish of every color and size ready for display.  But where the "Lost in Translation" moments await is in large warehouses (or gallows), where stacks of these frozen tuna are heaped on the floor, with baseball cap-wearing, grim-faced men (over whom I towered) were shouting at each other in a wave of controlled chaos, making their bids for these frozen chunks of flesh.   Morbidly curious, I trolled around the market, wondering what fate these frozen corpses would face.  And what I saw was not for the weak stomached:  huge tunas carved up by sinewy men who have long mastered how to use a buzz saw.  Had I been deaf, I would have thought that I was at a Home Depot or a construction site, but no, these saws were carving giant fish, not 4x4's.  Tractors and forklifts were making their dance throughout the warehouses and adjoining parking lots, not hauling appliances, but more dead, frozen fish.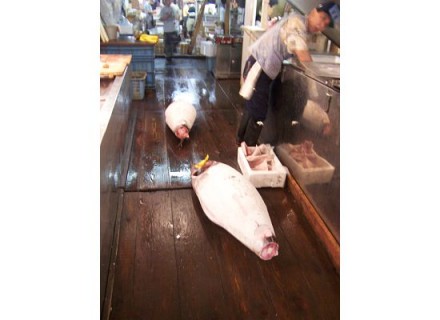 I stayed for a few hours, and saw enough. The bizarre sights and sounds reveal not only how our oceans' fish are disappearing, but
a monstrous economic engine
:  2500 tons of fish are sold daily at about US$23 million a day, or US$6 billion a year (and I stole those figures from a 2004 Lonely Planet guide, so those figures are probably outdated).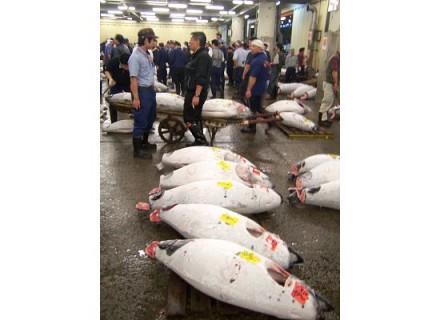 Tsujiki will probably not be around much longer:  Tokyo officials plan to
move the market
farther away from the city's center (to a site supposedly laden with hazardous chemicals), and meanwhile, many vendors, upset with nosy foreigners like me, have often succeeding in convincing the market's management to
ban visitors
from wandering among the stalls--or curiosity seekers like me altogether.  As a tourist, that morning was a great adventure; as a consumer, it was a wake up call.  The lessons are clear:  ask how your fish is sourced and caught; avoid fish coming from these trawlers; and if you eat sushi, don't insist on "fresh" ahi because the truth is, you are paying a ridiculous amount for something that technically, does not exist--and meanwhile, you are encouraging a vicious cycle that only is destroying our oceans in the long run.
In the meantime, enjoy, or be appalled, by some more pictures.
Let's just dump these poor suckers somewhere.
Here are some fish getting rickshawed through the market.
The bidding over the fish.
Let's cut off a little slice of ahi.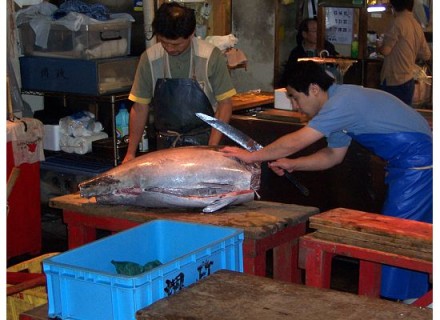 Going once, going twice . . .
Weighing the fish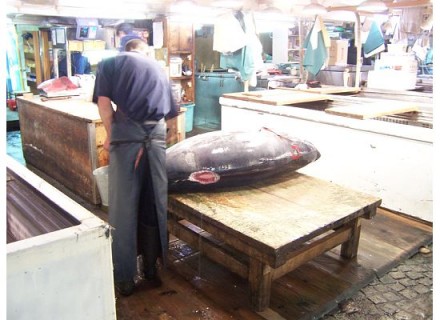 Going down the conveyer belt.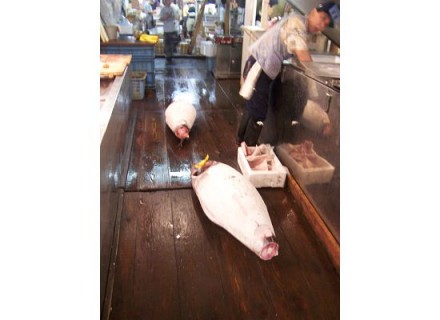 It's almost ready to eat.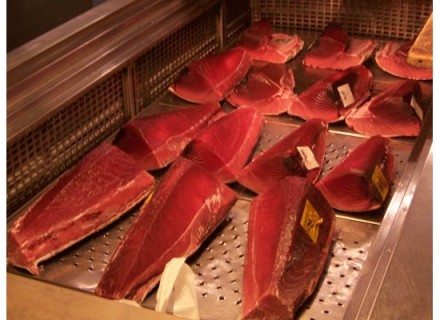 And the finished product.