Combing for a Future in the Himalayas
As you venture farther west in China, heading towards Nepal but before you reach Tibet, not much exists in the far southwest reaches of Sichuan province, China, other than height, wind, and spectacular scenery.  There are no trees, little rain, and for the hearty people who have lived here for millennia, not much economic opportunity.  What does exist is a timeless appreciation for the land and strong family cohesion.  And thanks to a serendipitous meeting between a couple expats and these people, there very well may be a surprising pairing of fashion and social entrepreneurship.
Aaron Pattillo and Julian Wilson
founded
Khunu
, a men's knitwear company with offices in China and Colorado, last year.  During a trip to Tibet in December 2008, the pair, frozen at 16,000 feet above sea level, learned about the virtues of yak wool from their Tibetan guides.  The chance meeting has evolved into a company, combining sustainability, economic reward, and quite bluntly, rather cool (er, very warm) clothing. For centuries, the nomadic people of the Tibetan Plateau have relied on yaks for just about everything.  These animals provide families milk, meat, and wool.  Each spring, the yaks shed their wintertime coat.  The coarse outer layers of wool are most valuable to these herders, as they use the fibers for making tents and ropes.  But what Pattillo and Wilson realized was that the softer wool fibers, separated by hand by the nomad families, were of little direct use to the nomads and as such either blew away or were discarded.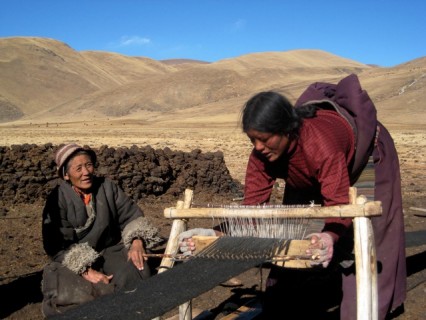 And this wool had much value.  The UN's Food and Agricultural Organization has found that yak fibers, while thinner than those from sheep, are actually stronger and provide greater warmth.  So Pattillo and Wilson came up with the idea of collecting the soft yak wool from these nomad families in the region and using it to create yak wool-based clothing. At first the yak-herding nomadic families greeted the idea with skepticism, then novelty, and now, more enthusiasm.  Thus Khunu was born as a luxury adventure-wear brand, making its 'soft-launch' with men's sweaters in three sleek designs.  The company gets its name from an ancient Mongolian dynasty, and came into its own during the 2010 Vancouver Winter Olympics, when Ghana's ski team sported the company's products during the competition. The company is a winner on many levels.  First, for the animal rights crowd, yak wool is combed, not sheared, so the animals do not experience any discomfort.  Nor are the yaks subject to mulesing, the cruel procedure of cutting skin from the rear ends of sheep used by Australian woolgrowers, which PETA has long decried and that has recently been boycott by a group of major American retailers.  Next, Khunu is sourcing material that would have been wasted, so nothing is depleted or "raided."  Finally, the families from which Khunu is purchasing its wool now have an additional source of income to help buy necessities such as sugar, vegetables, clothing, and medicine.
Currently this is the peak season for yak wool collection.  Khunu's staff is sorting out its supply chain, creating a process by which the families' wool is vetted, weighed, and purchased. The company is growing: while Khunu currently only offers its products online, according to Pattillo they have already inked deals with select brick-and-mortar retailers in the US and Europe where their products will be sold.  In addition, a Khunu women's line is rumored to make its debut this fall. Edgy fashion design, microfinance, while preserving and celebrating a local heritage:  Khunu is onto something, proving that great clothes do not have to come from awful sweatshops, and that caring for the earth is not relegated to wearing only hemp knits for hippies.  
View Khunu's online store here
.
Special thanks to Aaron Pattillo for sharing the incredible photographs with us!
And check out the finished product!