Are We Finally Plugged Into Plug-ins?
Yesterday I went to the Plug-In 2009 show in Long Beach.  I was hoping to see more vehicles, but the evening was an interesting one.  There were vendors ranging from light-weight auto bumper makers to electric charging station manufacturers.  
I think my favorite exhibitor was the Giant-Lion Know-How Co., over which an acquaintance and fellow Greenie-in-Training, Kat, and I, struggled to understand.  They had huge posters that were somewhat of a cross between the most info-crammed PowerPoint presentations you've ever seen and a Damien Hurst exhibit.  The exhibitors were very friendly, but I still had no idea about what they do . . . well Kat figured out they had patents. I'm most excited about the Nissan Leaf, which will arrive in the USA in late 2010.  The leaf is a 100% electric-powered
car that can go up to 100 miles on a charge while seating 5 comfortably within a sleek interior.  At first Nissan will manufacture the cars in Japan, but currently the company has got plans to retrofit one of its Tennessee assembly plants so that manufacturing the Leaf can start in 2012. What's significant about the Leaf is the battery design, as explained by Andrew, a battery guru who I recently met that can take scientific jargon and translate such lingo into plain English.  Rather than using a cylindrical lithium ion battery, 48 flat batteries, nestled in packs of 4, will lie under the rear seat . . . think of the batteries as looking like empty Capri Sun drink packets (remember those?), the total sum of which will only weigh about
450 pounds . . . instead of the 900+ pounds older battery packs have weighed.  While other plug-in vehicles made their way to the Long Beach Convention Center, the Nissan Leaf had the most buzz . . . even if there wasn't an actual prototype on the floor! After traipsing through the exhibit hall, we sat in a panel in which Bill Nye ("The Science Guy"), Chelsea Sexton, and Chris Payne (the heroine and director of
Who Killed the Electric Car?
) bantered over whether electric vehicles are here to stay.  The panel at times was more of a love-fest, but they brought up some important points:
People, especially younger folks fresh out of college, are beginning to redefine what mobility means.
Environmentalism is looking how to let everyone do everything, unlike the 1970s mantra of do less (or as Nye quipped, "Don't even eat!")
Although there's concern over electric cars straining the grid, Sexton summed it up in an inspiring way:  ". . . it would really be a good problem to have!"
Stimulus money always seems to go the tired old corporations and agencies, while it's always expensive for companies to develop a new line of car
Electrical connectors are the hugest problem, according to Nye—the sooner there's a standard, the sooner electric vehicles will take off!
Payne mentioned that public acceptance will the largest hurdle for these vehicles, as we still have an idea we'll drive hundreds of miles each weekend, and that consumers need to see these cars as sexy, fun, and mainstream.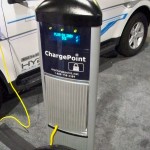 PHEV (the acronym for plug-in electric vehicles) cannot come at a better time.  As one panelist noted . . . we are now spending more energy driving that making things.  That fact alone should push consumers to hop in these cars!  Unfortunately, the federal government is spending more money on cash-for-clunkers than newer  technologies such as batteries . . . and as I thought about that on my Metro Rail ride home . . . I could only sigh.  2011 can't come soon enough!  
PS:  For an interesting analogy on how the Plug-in 2009 show was like the Internet industry of the mid-nineties, click here!