An açai berry walks into a bar . . .
The articles have slowed down a bit this month because GreenGoPost is currently in Salvador do Bahia, Brazil.  Not wanting to deal with different keyboards during my trip, I did my best to pre-post ahead of time--in fact, most of the posts that I write are written, re-written, and proofread--I seldom post on the fly.  So, as to not distract from Carnival and the other cultural riches of this region, I thought I'd share one of the great pleasures of Brazil, the juice bar.
The juice bar in Brazil is an easy place to eat three, or four, or five meals a day.  When we visited Rio in 2004, we found a fantastic one near Ipanema, where we became willing regulars.  I still remember the young girl who would wait on us:  Nice, with a big smile who would endure our gringo Spanish and teach us some basic Portuguese words.  Whether we were there to start the day or to refuel after a few hours on the beach, she would greet us with that huge smile.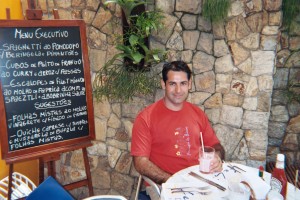 Breakfast is gob-smacking strong and hyper-caffeinated coffee, with the tank of heated milk so that your coffee stays piping hot.  With a few pao de quiejo (puffs of yucca flour and cheese), you are ready to start your day.  Lunch and dinner are the delicious steak and chicken sandwiches.  But the juice is what keeps bringing you back.  Actually, they are more like smoothies, though that is heresy to describe them as such because these are not your sugary-sweet Jamba monstrosities.  The juices have a little sugar and ice, are about 12 ounces on average, and as far as I could see, you have one fruit only.  Let me share some of my favorites:
Açai:  Well that's obvious, though nothing in North America compares to having a real açai juice--deeply flavored, sweet but not sugary, and a little gritty.  The chants of "Açai, Açai, Açaiiiiiiiiiiiii!" coming from a sinewy tanned local lugging his cooler of 2 reais (then, about 67 cents) juices on the beach still stay with me.
Buriti:  From a palm tree, with hints of peach or nectarine.  There's a bit of an aftertaste, but the texture is sublime.
Cacau:  One of my favorites--this is the pulp, not the bean, from a cocoa pod.  It's very sweet and creamy.
Cajú:  Have you ever seen a cashew growing on a tree?  The nut is actually attached to a huge fruit, which is tart, like a cross between an apple and a lemon.  This ranks right beside cacau as a favorite.
Fruto-do-conde:  This funny-looking scaly green fruit tastes like baked apples.  Full of black seeds, it's sweet and refreshing.
Graviola:  Also called a soursop, this prickly green curiosity has a sweet custard-like flavor. 
Mangaba:  Hints of pear, very tart, and perfect on a hot summer day!
I bring up these fruits because few of them actually make it outside of Brazil.  Chances are you've had Brazilian beef, soy, and orange juice, but these fruits are only a few of the culinary treasures about which Brazil can boast.  Let us hope that the economic growth of Brazil, and the environmental threats to many of its ecosystems, will not threaten these fruits.
What I gave you is only a partial listing.  If you think I have missed something, please share it with us.