Amsterdam's Waste to Energy Plant
Perhaps it is not exciting and it gives no "wow" factor, but there is a form of energy that surrounds us.  It is a nuisance and at the same time it is plentiful and useful. I am talking about garbage.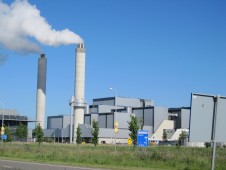 Towards the end of my time in Amsterdam, I toured the city's Waste to Fuel Power Plant (WFPP) thanks to Harmen Veldman, who I met during my first day on a city-led sustainability tour among the canals. A small country like the Netherlands does not have the luxury of landfill space.  Municipal solid waste is highly taxed, so this country of 15 million people, who use just about every square inch of land available, had to find an alternative.  That alternative is not yet recycling:  glass and paper are reprocessed, but not metal or plastic.
Each day about 600 trucks from Amsterdam and 18 other cities drive up a huge ramp to the WFPP, which lies in the western dockyards of this city of 750,000.  The two incineration plants, built in 1993 and 2007, turn about 1.4 million tons of garbage into electricity.
More details about the plant can be found in my Triple Pundit article.
  The tour of the WFPP was wild—the highlight was watching the resorting of the trash in the huge bunker.  It reminded me of those toy machines you see at arcades or casinos that kids try to play in getting that silly plush toy—only instead of plush toys, giant yellow jaws of death resort and restack the garbage as it begins its decent into incineration Hades.
Is this a perfect solution?  Well, I don't know of a perfect energy solution—there is one ton of CO2 for one ton of garbage (but not the other harmful gases like SoX and NoX).  In the end, you have a marginal amount of waste, and for a country with limited space, this is the path they must take.  The new WFPP has a 32% energy efficiency—64% of that garbage ends up recycled, into metal or building materials.  Only about 2% ends up as waste, mostly as flue gas residue that is deposited into empty salt mines in Germany. I'll cobble together a low-budget Flip Video soon.  In the meantime, I'm curious what you think.  Garbage incinerators do not have many fans.  But as landfill space disappears, and population increases—there are not that many viable options.